Most of my designs and the patterns I purchase turn out to be things for ladies (or girls), and often when either of my two daughters, ages 15 and 20, see something I'm making they make a claim on it. They have gotten a number of things that I've made. However, my 17 year old son has not received many of my crocheted items except for a few quickly made winter hats.
So my goal for this month's pattern review was to find something that he would not only wear, but that he was also excited about getting. So I had him look through the patterns on Etsy and pick something out that he wanted, and he actually did.
Which leads me to this months pattern review.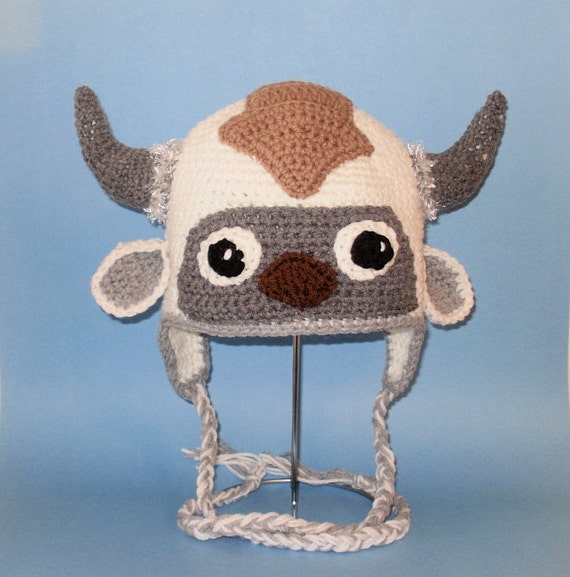 Flying Bison Hat Pattern from FunyCreation.
To see this pattern in the FunyCreation etsy shop just click the photo.
When I was going through her patterns I remember my son mentioning that he would like a Toothless hat and I discovered that
FunyCreation
also offered a pattern for one of those, so I decided to try it out too.
I really loved both patterns, they had simple instructions and were very easy to follow. I really appreciated all of the clear, large photos that demonstrated the hats as they were being made. Both hats were easy to make, the pattern instructions were clearly written and easy to follow. However, I do want to add that I had a lot of trouble finding the yarn used to add the "fur" around the ears. Finally, I found a bulky (6) yarn that had a strand of "fur" yarn running through it and ended up having to pull the yarn apart to get only the fur (it wasn't difficult to do and it turned out great).
Lets start with the Appa Hat I made. I had a lot of trouble getting my gauge to work properly no matter what hook size I tried, however the note that was added at the beginning of the pattern made it easy enough to create my hat to the right size even without my gauge working out. Since my son needed an adult XL hat I needed to create it a lot larger than the instructions for the XL hat, so I also adjusted all of the hat's features accordingly so that they turned out larger too.
Here is the hat that I crocheted for my son.
Normally I try to stay away from projects that have a lot of sewing; however I found
this one easy to put together. There were a lot of photos included in the pattern
that I could follow for the placement of the features.
Now, anyone who reads my blog or my pattern reviews knows that when I purchase a pattern I like to get multiple uses out of it, being able to change it up a bit so that each item I make has either a different purpose or comes out with a slightly different look. So I did change this one up a bit, but I still wanted to keep the look of Appa (although my son did mention, before I had got the horns and ears sewn on, that if I just added some pointy ears at the top of the head, the hat could look like an owl hat).
I decided to try out one of the smaller size hats. (Yes, this pattern is written for hats size newborn through to XL, so your whole family could be suited with Appa hats). I do realize that certain people, who may be huge fans of a certain Anime series may take offense to what I did with the next two Flying Bison Hats. But come on, if I lived in a world and could have my own flying bison I think I'd want it to be colorful.
Even though I still think this hat's adorable, I don't think I'd make the main part
out of variegated yarn again, it made it a little too busy and took away from the
other features of the hat.
I do really like this one, I think it's my favorite.
Let's move on the the Toothless hat. To be honest I really enjoyed making this hat. It was so quick to crochet and had minimal sewing. The pattern was really easy to follow. I had some trouble getting the eyes to look right, so instead of sewing in the black part of the eye I ended up crocheted an oval and sewed it on.
Really enjoyed making this hat.
I really liked that the ears and teeth were crocheted right onto the hat;
the only sewing was to add the eyes and horns.
Of course, I also wanted to create some Toothless hats in fantasy colors,
I had some metallic yarn that I thought would be perfect. I also changed the color
of the horns and eyes.
The fantasy color hats I added the ear flaps, however I added then before
the finishing single crochet rounds. I crocheted the ear flaps according to the
patterns placement and stitch count, but I made them with double crochets to make
them a little bigger.
I really enjoyed how quick this hat was to make, and since my son
refuses to pose for photos on a crochet blog; I made a hat for my 15
year old daughter too.
I really enjoyed making both the Appa and Toothless hats, and have found a few more from FunyCreation that I am eager to try.
Here are some other patterns from FunyCreation that are definitely going on my list of other patterns to try. Just click on each photo to be redirected it's page in Etsy.
| | |
| --- | --- |
| | Skeleton Hat |
| Yoda Hat | Lady Bug Hat |