Since I live in a cold weather place I've been really wanting to make myself a pair of slipper boots (and yes, I know it's April here, but the mornings are definitely cold enough to still want a warm pair of slippers when I get out of bed). So that became my mission when looking through the crochet patterns for sale on Etsy. And when I saw these slipper boots, I fell in love for a few reasons.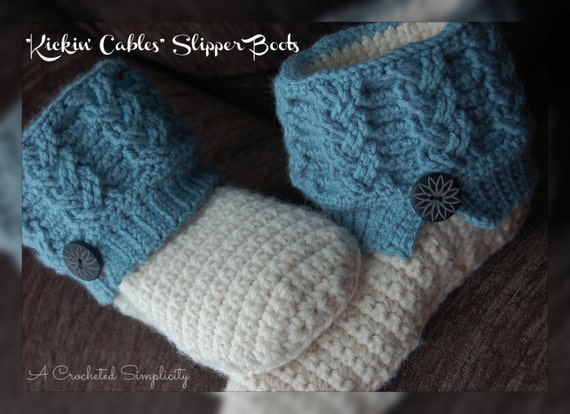 Thank you to ACrochetedSimplicity for giving me permission to use the photos from her site.
To purchase or view this pattern in the Etsy shop just click the photo above.
I've been experimenting with cables for a while now, creating swatches, but hadn't yet had to opportunity to make a project that was made using cables. I was really pleased to find some slipper boots (which is what I was wanting to make) and was going to have the opportunity to try out a cable pattern.
And upon further reading of the pattern description there was something that I noticed, and I knew this was the pattern I wanted to purchase. A year, or so, ago I received some information from a crochet magazine concerning the "rules" of creating and designing crochet patterns. One of these "rules" was never mix yarn weights within a design. Now I'm a firm believer that when it comes to creativity, there ARE NO RULES. So when I saw that this pattern called for two different weights of yarn, I was delighted that there's another crocheter out there who (maybe without even knowing it) decided to "break the rules" and let her creativity be her guide.
These slipper boots really had all that I was looking for and more. I had found the perfect pair of slipper boots to keep my feet warm, it broke the "rules" of crochet (according to some), I was going to have the opportunity to try out something with cables and the pattern instructions included enough sizes that I could make a pair for me and for each of my girls.
Before I go on with the review of my pattern, I want to thank the shop owner, Jennifer for giving me permission to feature her pattern for
Kickin' Cable Slipper Boots,
I encourage everyone to visit her etsy shop,
ACrochetedSimplicity
to see more of her amazing designs.
The pattern
is very well written with a lot of clear instructions along with clear photo illustrations. I was nervous to put a cable pattern into practice, but with this pattern it was a breeze. The written instructions are very clear and the photo illustrations walked through the whole process of the cable pattern design along with photo illustrations for other areas of the slippers that a little extra help may be needed. I really had no difficulty creating the cables and I encourage anyone who's had a little practice with crocheting to give it a try, the illustrations and instructions are clear enough that you don't need to be an advanced crocheter to make these slippers.
I also want to note that I love the way the sole of the slipper is made, it is not created in the usual way a slipper sole is created which makes it far easier to adjust the length and/or the width of the sole individually. Meaning, I could make it wider without having to make it longer and vice-versa.
Here's the first pair of slipper boots that I created exactly from the pattern instructions. I couldn't quite get my gauge to work out and didn't want to go to a smaller size hook so I just made my slippers a size down from what I'd normally wear (I normally would wear a 7/8 but found them too big for me, so I made a size 5/6 and they fit great)!
Here's the pair I made for myself, I used Bernat Roving Chunky weight yarn
for the "foot" part of the slipper and Bernat Satin worsted weight yarn for the
cabled top.
Here's a closer look at how my cables turned out, I was really pleased with them
for my first try at working with cables. I added a small "doily" crocheted out of
thread to add a little extra something to the button.
Since I have two daughters, I still wanted to make two more pairs of slipper boots, but I didn't want them to be all the same, so I decided to change things up a bit on the second pair that I made for my youngest daughter (who is 15 years old).
I used Red Heart Reflective for the shoe part of the slipper (the reflective threads made
it a little "scratchy"), and I used Bernat Satin Variegated worsted weight yarn for the
"cable" section of the slipper boot.
For something a little different, I followed the same stitch count
indicated for the top part of the boot, however on the "cable" rounds I alternated
between 2 fptr and 2 bptr and made less rounds than indicated.
For this button I crocheted a lacy flower as a button backer.


For my third pair of slipper boots that I created for my oldest daughter I really experimented with the pattern. Since I'm really not a fan of sewing sections together, I made the whole slipper without having to sew any sections together (except for the button and bow). I crocheted the whole top in one piece, no sewing. than pinned the sole in place from where my last stitch was worked on the top section of the slipper boot and followed the joining instructions. When I started my cable section of the pattern, I joined my yarn in the spot where I wanted the "slit" in my edging to line up, that way I could make my edging as a solid section, and again no sewing.
For these slipper boots I used 2 strands of Red Heart Soft Touch for the boot part,
however, since it was such a "soft" worsted (medium) weight yarn the boot
didn't hold a nice firm shape.
I used a diamond trellis pattern that I found in an online tutorial for the top part of the boot.
You can use any type of cable pattern on the top by following the basic stitch count and row
count as long as the stitches needed to create the pattern are evenly divisible by the number
of stitches created on the boot.

I also created a lace bow with a button to add extra decoration.
Since I found the boots above didn't keep their shape well enough using two strands of a softer medium weight yarn, I wanted to try one more pair with two strands of yarn using something a little heavier. In the boots below I used 2 strands of Red Heart Super Saver for the boot part. It worked great. The heavier yarn have the boots a much firmer hold. But since I didn't purchase enough yarn I ran out before I could make the ankle on the boot ... which gave me an idea...
Since I ran out of yarn, I decided to leave off the "ankle" section of the boot,
so instead of crocheting the cable pattern I added the cable right to the slipper.
I still completed rnds 1-3 of the cable pattern section than skipped to the edging.
I realized, that give the right colors, these slippers could work great for a man as well as a woman.
Once I thought I was done all of the above four pairs of slippers, I got one more idea I just needed to try. I played around with the weights of yarn and sizes of hook and was able to create some smaller size slippers suitable for young children.
So with this pattern for
Kickin' Cable Slipper Boots
from
ACrochetedSimplicity
a person can truly create a pair of slippers for the whole family. And if your willing to experiment a little, each pair can be a little unique. And if you're not the experimenting type and would still love to create several pairs of slippers for yourself or those you love, check out these other slipper patterns from
ACrochetedSimplicity
. You can be redirected to find out more or order these patterns by clicking on the photos:
Woman's Slouchy
Slipper Boots

Kids Slouchy
Slipper Boots

Kids "Kicken' Cables"
Slipper Boots

"Knot Knit"
Slipper Boots
To view each pattern below in the etsy shop, just click on the picture:
"Butterfly Dreams"
Pendant Lamp

"Perfectly Plaid"
Christmas Stocking

"Chasing Chevrons"
Handbag

Woven Treasures
Basket